When my little brother was still small
2015
Before puberty would set in the life of my little brother, I wanted to create a memory to the childlike playfulness and big fantasy with which he interacts with the world around him. On one hand he is a smart and wise little boy, on the other hand still a real child with an incredibly rich fantasy. Together with him we reflected on his little adventures.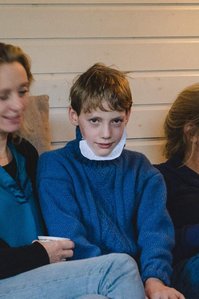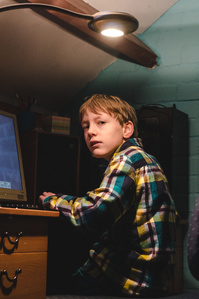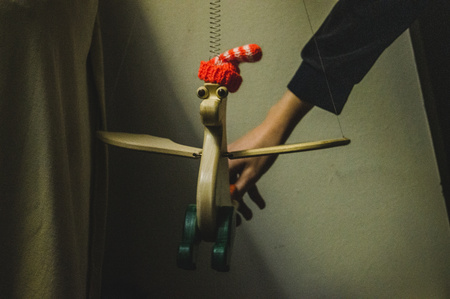 Death by toilet paper

... "Yes, there were some very exciting parts"
"Do you remember which book it was?"
"Death by toilet paper, it also says here."
"And what was this book about?"
"A boy had a mother and she had a lot of debts because she had a bad job, but in the end they still get money to pay of the debts because they win a contest where the main prize was a lot of money."
Dog translator

"Tell me about that dog-translator, how does it work exactly?"
"When I talk in dog language, people are able to hear it as human language. Very handy."
"You yourself talk in dog language, so you actually bark?"
"Yes"
"And how did you get the idea to make a dog-translator?"
"Because I thought like it would be pretty nice if I would be able to talk to humans as a dog instead of only being able to do woof woof woof and make all kinds of movements to make clear what I want to say."
I like cycling more than walking

"Why were you on the bicycle?"
"I was just cycling, I liked that. I like cycling more than walking. Especially because it costs less energy most of the time."
"Aha it costs less energy."
"Except when you are going uphill. Then it costs less energy if you walk with your bicycle."
"Whose bike is this?"
"I actually don't know who it belongs to, but it's sort of my bike. Maybe grandpa and grandma use it for the whole family."

Busy at the plot

"At the plot I was busy, only I was a bit to the edge of the plot. So I made a wall that's three blocks high, because a Minecraft character is about two blocks high, so it's a bit shielded from the other plots."
"Cool, and what exactly is a 'plot'?"
"On the Creative Free server a plot is 81 by 81 blocks, at least that's what they say but I haven't counted it yet."
...on a picture the image with the proportions is deteriorated...

"What did you just tell me about that? What you wanted to do with the small train?"
"That it just seemed like it collided, because if you take a picture, on a picture the image with the proportions is deteriorated but also, if you close one eye.
And then it looks like, if you hold it this far away, this small train looks about the same size and then you can let it collide. And it doesn't look like it's behind it but it really looks like it's going against each other."
Dragon

"This dragon here, what about that?"
"That's just a toy-thing, you can let its wings go up and down like that."